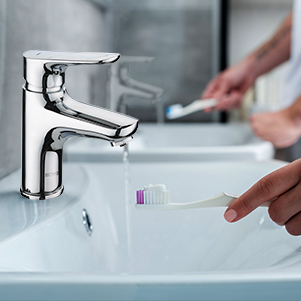 In the process of buying a faucet for the bathroom one must always remember about the safety of one's family and friends.
The body of the faucets are made of Pb Free (lead free) standard brass. They are safe for health because their production does not use toxic materials. Our faucets have the highest content of copper (Cu) in the alloy, compared to our competitors, which is much safer than zinc (Zn) which is widely used in alloys of other manufacturers.
SWEDBE faucets are approved for use in Europe and the US.
We offer thermostatic faucets that work even with ultra low-pressure systems, for example, with gas water heaters. A lock button is built in to the handle of the faucet which sets the temperature to 38 0C. This temperature is safe for children and eliminates the possibilty of burns. Each thermostat is equipped with check-valves that eliminate "displacement" in the systems with different pressure of hot and cold water.